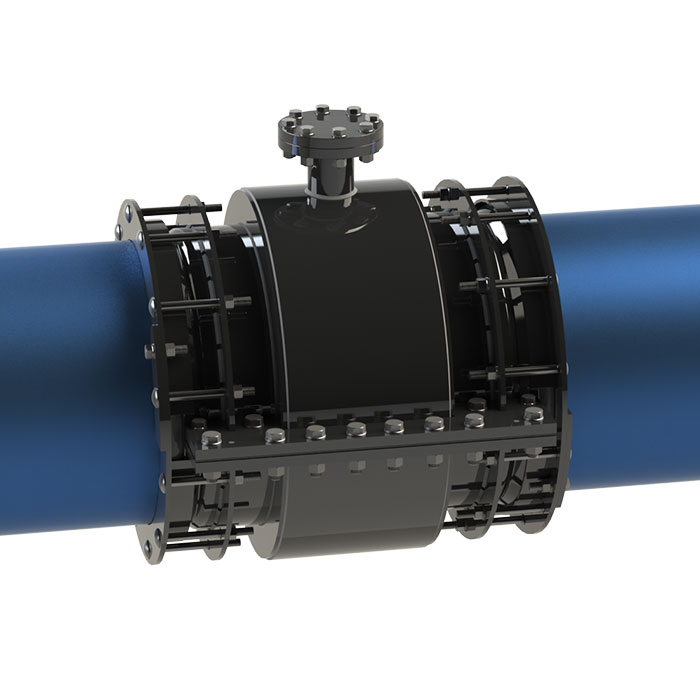 Duofit D30 shaped version for repairson sleeve collars of asbestos cement pipes, DCI pipes sockets, on a "GIBAULT" type joints, PE electrowelded fittings without interruption of supply.
Duofit D30 version can be also used for hot tapping techniques on pipes of any material and diameter with running fluids.
Central body
Carbon steel central body conveniently built in order to allow a perfect insertion of the gasket inside its dedicated conical seat.
Compression ring
Carbon steel compression followers which allow compression of the gasket onto the pipe surface upon tightening the bolts.
Gasket
Truncated-cone sealing gasket which can be perfectly inserted between the central body of the coupling and the circumference of the pipe. It allows a complete hydraulic seal and a 30 mm tolerance range on the pipe OD.
Bolt holes
Round or square holes for the bolt insertion.
Compression bolts
The compression bolts allow the approaching of the compression flanges and the consequent compression of the gasket onto the pipe.
Shaping
Manufactured in carbon steel, designed according to the length and the diameter of the pipe or of the sleeve to be repaired, in order to perfectly cover them.
Lateral plates
Manufactured in carbon steel, they allow the union of the two longitudinal shells of the DUOFIT allowing the repairing of the leak.
Lateral gasket
Lateral gasket with square section, it is compressed between the lateral plates and allows the hydraulic seal along the entire length of the Duofit.
Upper and lower outlets
They allow the DUOFIT assembly decreasing the pressure during the installation. They are also used in order to test the DUOFIT tightness once the installation is completed.
Straight version
Straight version for repairing pipeline straight sections.
Separate followers version
The bolts tightening is independent in order to improve the coupling centering and the performances of the gasket.