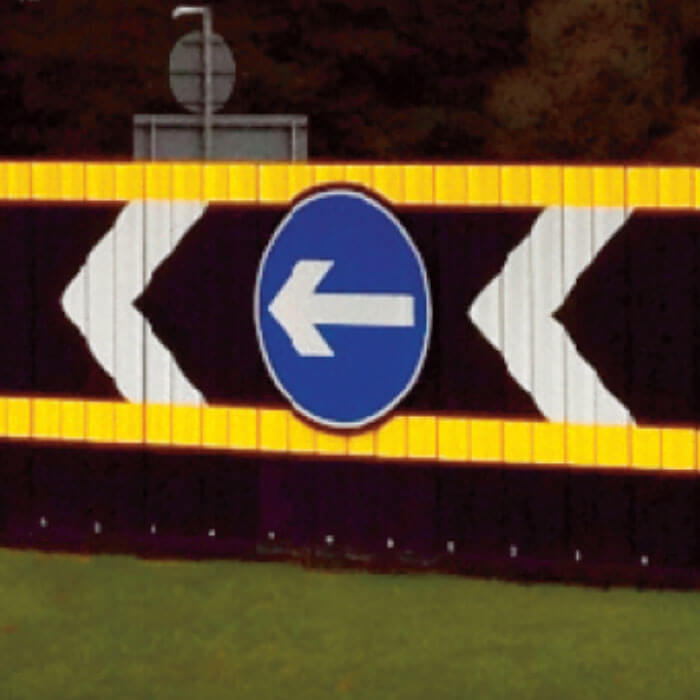 A reboundable Chevron system which is both tough and durable and can be surface or trough mounted. The Insight has been designed and tested in harsh conditions, to give an extremely tough, durable and reboundable Chevron warning system on a roundabout or the approach to a sharp bend. Its flexibility means it continues to function following impact. Bespoke systems have been used in other applications. Using a special, highly durable polymer with proven use over multiple vehicle impacts and harsh weather conditions, offering a full range of options as allowed in the TSRGD statute for roundabout signs. The knock down, spring back features make it ideal for high risk areas, negating the need to send out maintenance teams following an impact.
Choice of surface or trough mounted bases.
Reboundable – returns to upright with no sag following impact.
Tough UV stabilised polymer blades, mounted on a flexible blade return unit.
Materials tested to extremes of temperatures, including sub-zero.
The blade return unit is mounted on the foundation using security fasteners.
Individual blades are linked together by clips which un-clip on impact.
Available with or without borders.
Bespoke applications available on request.

This product range was developed to deliver unrivalled durability, ensuring the system continues to deliver road users a warning following an impact and significantly reducing the likelihood of maintenance teams being called out for repair work.